Our real estate business is built around one guiding principle: It's all about you. Selling your home is a big deal and you deserve the red carpet treatment!
What I do:
Take the time to understand your wants, needs, and expectations; answering your questions; returning your phone calls and emails the same day; and being honest with you at all times.
Help you obtain the highest possible price for your house in the shortest amount of time.
Advising you on pricing and staging once we have evaluated your home thoroughly against the market.
implementing a comprehensive marketing plan to expose your house for buyers through as many channels as possible.
Coordinating the home-showing process with you and your family's needs in mind.
Presenting all offers, and advise you on the terms and contingencies contained within so you can make the best decision.
Negotiate on your behalf for the best offer.
Scheduling and coordinating completion of contingencies and inspections, and monitoring the buyer's loan process.
Coordinating and supervising the preparation of all real estate closing documents, and guiding your through the closing process – and yes – I'm there at the closing table to answer any last minute questions you might have.
Always representing YOUR best interests.
Ready to List?
The market tells us how much your home is worth. I will always advise you on the optimal pricing after a complete analysis of your property compared to the market. With my recommendation, you make the final decision.
Five Factors Affecting the Value of Your Property:

Price – Traditionally, the typical starting point of where to price your home comes from recent sales. I also examine your competition. What is selling right now. How long has they been on the market? How do they "stack up" to your home? Every home for sale in your neighborhood is going to compete for the same pool of buyers. How do we get them all to be interested in your home?
Location – Location is one of the most important factors in determining the value of your property. Proximity to shopping, schools, the beach… where your home is plays a big part in it's value.
Condition – Condition will always affect the price and the speed at which your property will sell. Updates, fresh paint, nice landscaping… It's not always about big-ticket items that play a role in getting buyers to love your home. I can help suggest ways to add curb-appeal and make your home more appealing to buyers without breaking the bank. Buyers often make purchases on emotion, so a fantastic first impression goes a long way.
Competition – Prospective buyers are going to compare your property to other homes for sale in and around your neighborhood. In order to get their attention away from your competition and focus on your home we will be competitively pricing and staging your home so it looks it's best.
Timing – Property values are affected by the current real estate market. Because we can't manipulate the market, we'll collaborate on a pricing and marketing strategy that will take advantage of the first 30 days your property is listed. It's the window of opportunity when buyers and their agents discover your property and are most likely to visit and make offers.
Keep in mind, of these five factors – you can only change two:
Price
and
Condition
.
Ready to Sell?
A well-priced home creates interest, attracts buyers, generates showings and produces offers, all very quickly.
An underpriced home will attract buyers and may sell quickly, yet may detract buyers who wonder "what's wrong with it?" as well as be overlooked by buyers looking in a slightly higher price range.
An overpriced home will be evidenced by lack of interest, few showings, no offers, longer time on the market, and possibly price cuts which look bad from the buyer's perspective.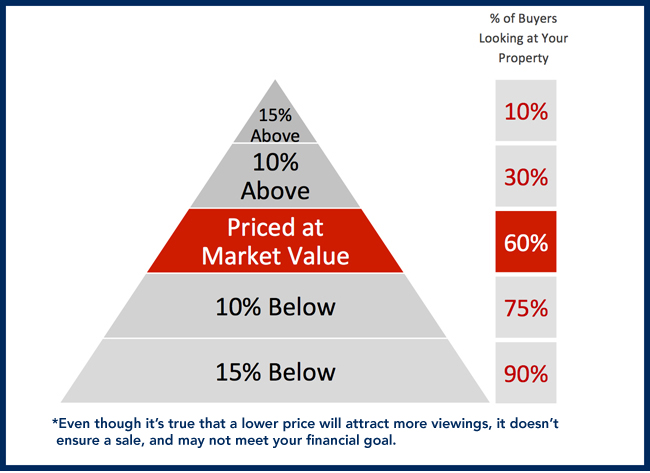 I can help you just as I've helped so many other South Florida homeowners. I work hard to make sure your goals are accomplished. Remember, it's all about YOU.