The real estate market is extremely competitive and I've been noticing more and more "For Sale by Owner" signs posted around town. While it may seem tempting to try to sell your house yourself to save on listing fees, there are dozens more reasons why you'll probably ultimately lose money (and time) by going it on your own.
I hear the same complaint from clients again and again. Many assumed it would be a breeze to sell their own home between online listings and the hot South Florida real estate market. Time after time they come to me looking for help selling their house after weeks and even months spent lingering on the market.
Here are seven reasons you should always use a professional Realtor when selling your home.
7. You are not a real estate professional.
No matter how well you know your neighborhood and how many hours a day you're on Zillow, you'll never have the knowledge and experience a professional Realtor has. Between the legalities of selling a home, pricing specifics that aren't available to the general public, and long-term market knowledge that only comes from experience there are plenty of reasons to pay a listing agent for their services. Afterall, you wouldn't think of trying to perform your own root canal; you'd visit a licensed dentist! Is the sale of your home any less important?
6. Pricing is hard business.
Every homeowners knows what they'd
like
to get for their house but unfortunately sometimes that number is rather far away from what the market actually dictates as the house's value. A Realtor is exactly the objective eye you need to help determine what your house is really worth to buyers. Starting at a slightly lower list price now but selling in 5 weeks as opposed to 5 months can actually save you money. Let a qualified Realtor perform a CMA on your home before you ever think of listing.
5. Your home needs to be on the MLS.
The Multiple Listing Service is a crucial resource for real estate agents and the first place your buyers' agents are going to look when they're searching for homes. If you try to "Sell by Owner" you won't be on the MLS listings (there are some ways around this but they can be very expensive!) and your home may not be as visible as it could be. Likewise, don't count on your house being listed correctly in online databases like Trulia and Zillow. Realtors work hard to manage your home's visibility which is something you simply can't do on your own.
4. A Realtor can help keep you safe.
Imagine your hesitation to list a piece of furniture online only to be bombarded with calls and emails from strangers looking to show up at your house. Using a Realtor helps keep your family out of harm's way by providing a vetting system for potential buyers and eliminating the need for you to allow complete strangers into your home. Working with a Realtor ensures only qualified buyers ever get past your front door, protecting your family as well as your privacy.
3. Negotiating is difficult work.
You may consider yourself a keen negotiator but all bets are off when you're suddenly asked to make a very emotional decision involving hundreds of thousands of dollars, all while keeping a good "poker face." Realtors are specially trained in negotiation and have years of experience handling tricky situations between buyers and sellers. An objective third party is exactly what you need when you're trying to get the most money possible for your house but you don't want to lose a deal.
2. Marketing takes more than a "For Sale" sign.
Efficiently and accurately marketing your home is an incredibly specific process. Many "For Sale by Owner" sellers assume that because they live on a busy street people will surely see the sign and call! Not the case. Between making flyers, hosting open houses, networking, and phone calls, marketing a piece of property is hard work. Particularly if your home has
any
hard-to-love aspects (i.e. strange layout, dated kitchen, small yard), having an experienced Realtor to pitch the property is crucial. You may think your house is so great it will sell itself but even in the upturned South Florida market, it won't.
1. Being a real estate agent is a full time job.
Odds are, you've got enough on your plate without adding to it the tens of hours a week that come with selling your own home. Even in the best markets, selling a house takes work – contracts, showings, negotiations – everything about the home selling process means time. Consider the opportunity costs you're incurring by giving up precious family, work, or leisure time to struggle through a home sale you could simply hire a professional to do. Isn't your time worth it?
Forget "For Sale by Owner." How about "SOLD by Mike Mucci!"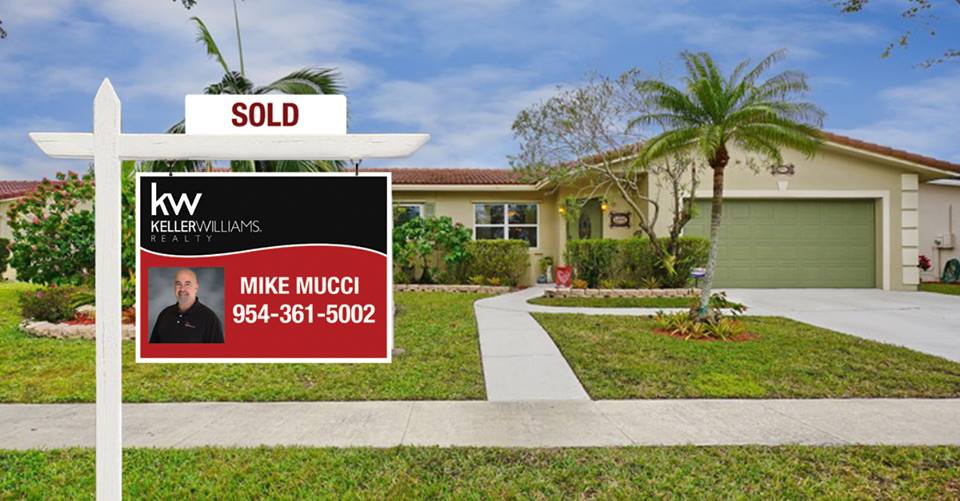 Call me today at 954-361-5002